Rob Pilatus and Fabrice "Fab" Morvan first met in a dance seminar at a club in Munich. Despite the language barrier (Pilatus grew up in Munich while Morvan grew up in Paris), the pair immediately became close friends and later, reunited in Munich to look for work as backup singers. Morvan and Pilatus went on to form their own act and even recorded an album for a minor German label. But their real shot at fame arrived in 1988, when they officially became the German-French R&B duo Milli Vanilli. 
Together, Morvan and Pilatus sold more than 30 million singles worldwide. They also won the Best New Artist award at the 32nd Grammy Awards and three awards at the 17th American Music Awards.
Milli Vanilli's time in the spotlight, however, was short-lived. Only a few years after their big debut, the duo was caught in an infamous lip-syncing scandal. Turns out, none of their hit singles were actually sung by them. They were all recorded by studio performers, who were bribed by record producers and labels to stay quiet about their behind-the-scenes deeds. 
The story of the once-beloved musical duo and their unfortunate downfall is explored in "Milli Vanilli," an all-new documentary on Paramount+. The nearly two hour film spotlights the duo's tale of stardom through interviews with Morvan, the only surviving member of Milli Vanilli, along with higher-ups in the music industry, culture critics and journalists. The documentary also features old footage of interviews, recordings and Milli Vanilli performances.
Here are eight revelations from the documentary: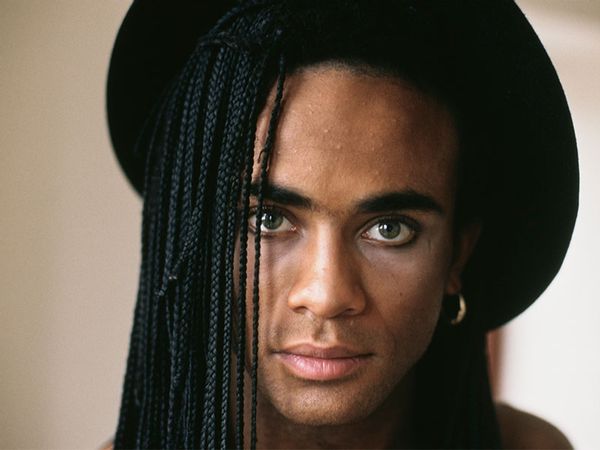 Rob Pilatus Of Milli Vanilli, London, 27th September 1988. (Michael Putland/Getty Images)
Pilatus' father was an American soldier while his biological mother, who he never met, was a strip dancer. In an old recording, Pilatus is heard saying he was first placed in a children's home before he was adopted at the age of four. Pilatus has an adoptive sister, Carmen Pilatus.
"In the beginning, I don't think he saw himself as being any different," Carmen said in the documentary. "I never understood why, but he was racially insulted by other people. They would say things like, 'You are so dirty' or 'Go back where you came from.'"
Pilatus also said he was physically punished by his adoptive parents when he did something wrong.
"He sought the attention that he didn't get as a child," Carmen added.
In the documentary, Morvan said he understood Pilatus' pain. Growing up, Morvan's own family was incredibly dysfunctional and abusive, which led him to run away from home.
The duo, Morvan continued, were both looking for a family.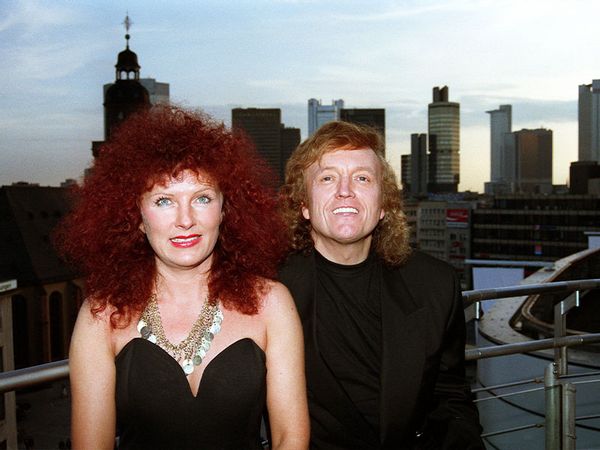 Frank Farian and Ingrid Segieth (Katja Lenz/picture alliance via Getty Images)
Frank Farian, the German record producer, is best known for founding the 1970s disco-pop group Boney M. along with the Latin pop band No Mercy. In 1988, Farian officially founded Milli Vanilli, much to the excitement of Morvan and Pilatus.
Farian had invited the duo to his studio to listen to a demo of "Girl You Know It's True," a song by the Maryland-based group Numarx. Although Morvan and Pilatus insisted that they'd be able to sing the demo, their singing did not impress Farian, who told them they'd be lip-syncing instead. The final mix of "Girl You Know It's True" was recorded with studio performers. Farian recruited Brad Howell as the lead singer of Milli Vanilli, Charles Shaw as the lead rapper and twins Linda and Jodie Rocco as backing vocalists.
Morvan and Pilatus had signed a contract with Farian, despite either of them understanding the terms and conditions. Under the agreement, Farian was allowed to record 10 of their songs a year. Backing out of the contract proved to be difficult, especially because Morvan and Pilatus were desperate for both the money and fame.
Morvan said Farian's assistant (and girlfriend at the time), Ingrid "Milli" Segieth, told the duo they'd be indebted to Frank if they decided to no longer take part in Milli Vanilli. 
"What she conveyed to us clearly is that we signed the contract, we got money — if we didn't want to take part, we had to pay them back," Morvan explained. "But Ingrid said, 'It's not just the advance that we paid you, but also all the money that we gave you through the months.'"
Segieth, however, asserted in the documentary that she had never said that:
"If they would refuse, they can go back to Munich and can . . . go work for a garbage company or something like that."
Morvan said he and Pilatus were "scared as hell." They ultimately agreed to continue working with Farian, thinking that they'd be able to leave after lip-syncing just one song.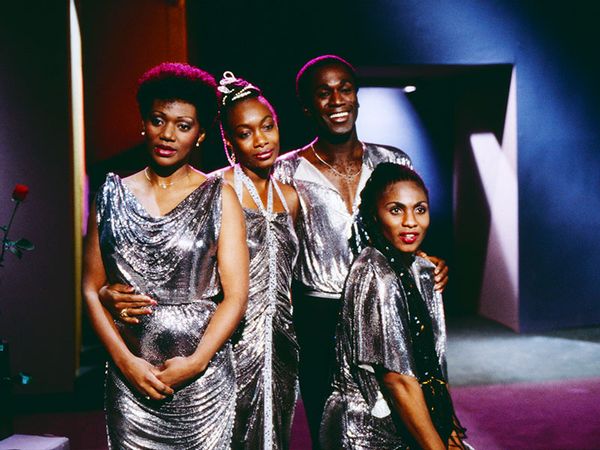 Boney M (kpa/United Archives via Getty Images)
Farian pulled the same scheme with Boney M. The group's lead male vocalist, Bobby Farrell, was a dancer and not a singer. The vocals were done by Farian himself while Farrell lip-synced. Boney M. went on to sell more than 100 million records worldwide and put out several international hits, including "Daddy Cool," "Sunny" and "Rasputin." But only Farian reaped the benefits of all those major successes and accolades.
"The guy is stinking rich, he's got a studio . . . I don't have millions," Farrell said of Farian in a clip from an old interview. "Frank Farian's a stinking millionaire against a poor Negro like me?" 
Charles Shaw said Farian was merely "a producer that made most of his money on Black artists," and it worked.
"Then years later, he came back and did it again with Milli Vanilli. He took my voice, he took their faces, he put the project together, he put it on the market. And he got rich off it."
Milli Vanilli (Peter Bischoff/Getty Images)
The 1989 album, titled "Girl You Know It's True" in the U.S., contained five singles that entered the Top 5 of the Billboard Hot 100, three of which reached the top position. The album was certified six-times platinum by the RIAA after it maintained its top spot in the Billboard Top 200 for seven weeks straight. The album also spent 41 weeks within the top 10 of the Billboard Top 200 and 78 weeks within the charts overall.
The album was also certified Diamond in Canada. Its success even helped Milli Vanilli earn a Grammy Award for Best New Artist on Feb. 22, 1990.
Unfortunately for the duo, their Grammy win also propelled their downfall.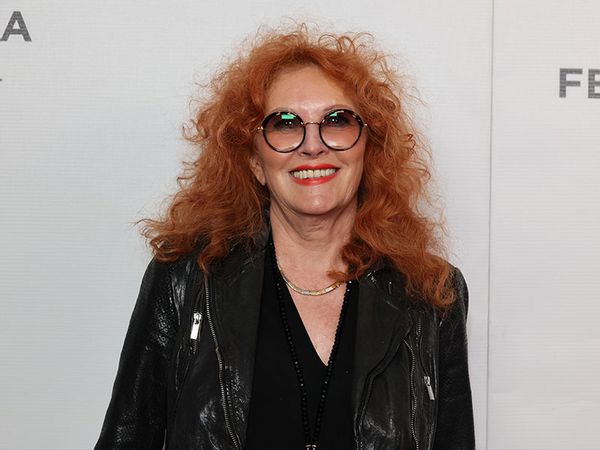 Ingrid Segieth attends the "Milli Vanilli" premiere during the 2023 Tribeca Festival at Village East Cinema on June 10, 2023 in New York City. (Dia Dipasupil/Getty Images for Tribeca Festival)
"It's so difficult to express. We loved each other, but that was the love without sex. Robert had an attention syndrome since childhood. In the orphanage, whenever parents came to adopt a child, he drank water from the toilet bowl to draw attention to himself," Segieth said. 
She continued, "He needed a loving mother. And hugs too. He always asked, 'Take me in your arms.' He slept with me in bed then he cuddled with me. I think I was the only person he trusted and he loved."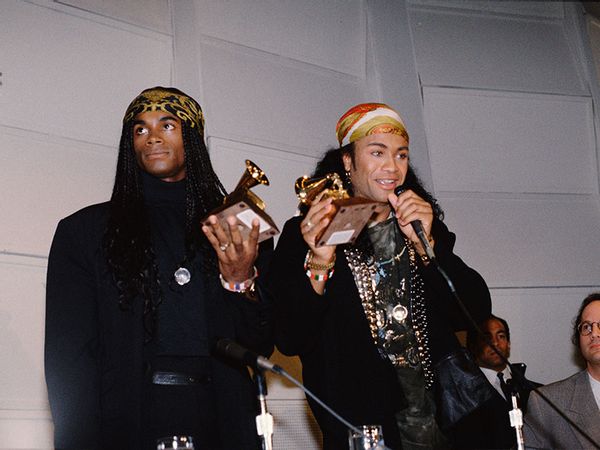 German pop band Milli Vanilli, composed of French singer, songwriter, dancer and model Fab Morvan and German-American model, dancer and singer Rob Pilatus, at a press conference announcing they will return their Grammy Awards after confessing to lip-synching their songs. (Bill Nation/Sygma via Getty Images)
Following their Grammy win, the duo grew increasingly arrogant and entitled. 
In an old interview with Time magazine, Pilatus said, "Musically, we are more talented than any Bob Dylan. Musically, we are more talented than Paul McCartney, Mick Jagger; his lines are not clear. He don't know how he should produce a sound. I'm the new modern rock 'n' roll. I'm the new Elvis."
Elsewhere, the duo proclaimed, "It's more difficult to sing a song like Milli Vanilli than a Beatles song." Pilatus even said he's the "new modern rock 'n' roll" and "the new Elvis."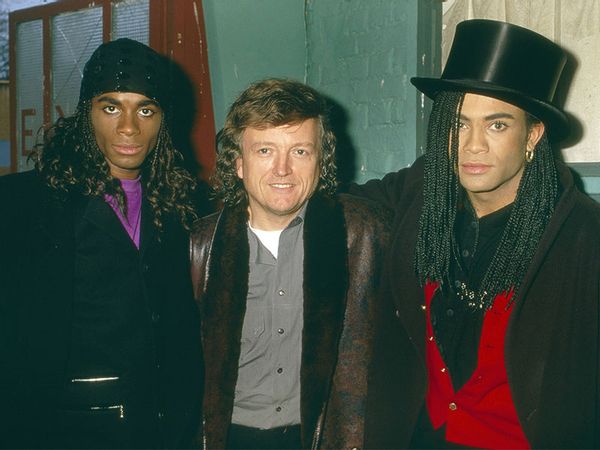 Producer Frank Farian (center) with Disco pop band "Milli Vanili", at Munich, Germany 1988. (Fryderyk Gabowicz/picture alliance via Getty Images)
Doubts about the pair's actual singing began to surface. Their English-language skills were at odds with the fluent performance on their hit songs. The first real sign that they were lip-synching came in July 1989. During a live performance of "Girl You Know It's True" for MTV at a Connecticut theme park, the vocal track had a mulfunction and kept repeating lines over and over. Unsure of what to do, Pilatus infamously ran off stage. Despite this, the audience didn't really seem to notice or care.
The truth came out in the wake of growing public speculation about Milli Vanilli's real singers along with Morvan and Pilatus' demands to Farian that they be allowed to sing on their next album. On Nov. 14, 1990, Farian announced he had fired Morvan and Pilatus and revealed that the duo never sang any of their songs, thus casting them as frauds. Pilatus later confirmed that he and his partner did not sing on their own records when he was confronted by Los Angeles Times reporter Chuck Philips.
The National Academy of Recording Arts and Sciences subsequently revoked Milli Vanilli's 1990 Grammy for Best New Artist. The revelation also shocked the duo's predominantly white fanbase, who demanded refunds for their albums and Milli Vanilli concert tickets.
During a press conference for more than 100 journalists in Los Angeles, Morvan and Pilatus said they would return their Grammy Award. Pilatus said they had been seduced by the money and the fame and "made a deal with the devil." Morvan and Pilatus also sang and rapped for the room to prove that they could sing, even if they didn't sing on any of their hit singles.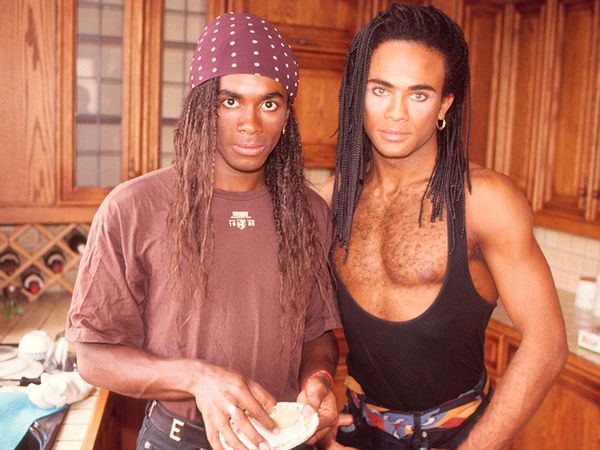 Milli Vanilli, portraits, London, 27 September 1988, L-R Fab Morvan, Rob Pilatus. (Michael Putland/Getty Images)
Towards the end of the documentary, Morvan recalled one of the last times he saw Pilatus before his death from an accidental overdose in 1998. The heartbreaking incident took place outside The Viper Room in Hollywood, California, where Morvan happened upon an intoxicated Pilatus.
"I see a dude stumbling across the way," Morvan said. "As he was falling, his body turned, and I looked into his eyes, and I was like, 'Oh my God, this is not true.' I'm looking at Rob Pilatus.
"So I crossed the street, I picked him up and I said, 'Hey Rob. It's Fab. Rob, it's Fab. Where do you live?' And then he said, 'There.' So we ring the doorbell. We're like, 'Hey, we're there with Rob. Like, this is where he lives, yes?'"
Morvan said Rob's place looked "like a crack house to me," and the people inside were doing heavy drugs.
"I'm not surprised because I heard that's what he's been doing for a long time," Morvan continued. "But to actually see my brother in the street looking like this and looking back at my dude in his prime . . . Man, it was like, 'Phew.' I didn't know what to say."
On April 3, 1998, on the eve of a promotional tour for a new Milli Vanilli album, "Back and in Attack," Pilatus was found dead from an alcohol and prescription drug overdose in a hotel room near Frankfurt. His death was ruled accidental.
As for the album, it was never released.
"Milli Vanilli" is currently available for streaming on Paramount+. Watch a trailer for it below, via YouTube:
Read more
about Milli Vanilli: